NO LIVE CLASS – DO NOT USE THIS BOOKING FORM
We continue to train online, if you wish to join a class please request to join the Facebook group and answer all questions correctly to be approved.
https://www.facebook.com/groups/523155071724568
BACK TO CLASS!
Yes – we are finally able to start some of our classes. Things will be a little different in the short term, so please bare with us. As things change we will keep you updated.
We have put a booking system in place. Numbers are limited in each of the venues, so you will be required to book each class.
Process:
Only one student per booking
Please use the student name in the booking form ie if a parent booking on behalf of child please use the childs name when registering
Click on the lesson you wish to book in the calendar
Read through the terms and conditions
Tick to confirm you have read and understood
Click book
Once we receive your booking we will check that fees and licences are up to date before confirming your place.
You will receive an email to confirm your place is booked.
If you receive a cancellation email, please contact us asap
If there are no spaces left on the class you would like to attend please contact us to be added to the waiting list
BOOK YOUR CLASS HERE
In line with COVID-19 guidelines we are limited to the number of students we can have in a class. In order to address this and enable everyone to return to training we have put in a booking system.
We have added additional classes to some of our venues in order to accommodate everyone.
Please book your normal class as first choice.
If you are able to attend the earlier classes, please help us and book these.
Your fees and licences must be up to date or you will not be accepted.
The sessions will be 45 minutes long to allow for cleaning afterwards.
There will be no changing rooms available so you must come in your suits ready to start.
No bags allowed in the halls.
You must follow the guidelines for entry and exit.
If you feel unwell, have a temperature, loss of taste or smell do not attend.
If there are no slots available please contact us via phone or email emma@tagb.wales to be added to the waiting list.
Bookings can only be changed 24hrs prior to the lessons – please contact us direct if you need to cancel on the day.
No bare feet – shoes or grip socks must be worn
Please watch the videos on this page for entry and exit routes for each class
Below are links to each class venue.
HOW TO USE BOOKING FORM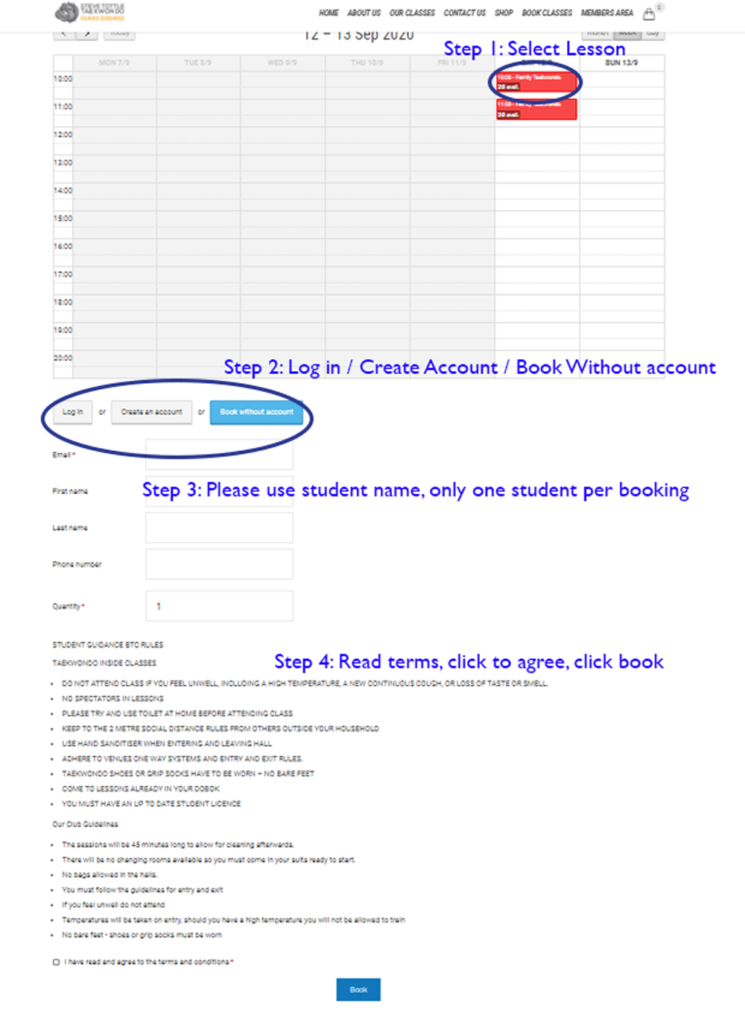 Entry & Exit Procedures
Please watch the videos below to ensure you follow the entry and exit procedures.
Hawthorn – 5pm Tuesday, 10am & 11am Saturday
Hawthorn – Tuesdays 6pm Class
WE AIM TO ENSURE EVERYONE HAS ACCESS TO AT LEAST ONE CLASS PER WEEK.
THANK YOU FOR YOUR SUPPORT AND UNDERSTANDING
PLEASE READ
STUDENT GUIDANCE BTC GUIDELINES
TAEKWONDO INSIDE CLASSES
DO NOT ATTEND CLASS IF YOU FEEL UNWELL, INCLUDING A HIGH TEMPERATURE, A NEW CONTINUOUS COUGH, OR LOSS OF TASTE OR SMELL.
NO SPECTATORS IN LESSONS
PLEASE TRY AND USE TOILET AT HOME BEFORE ATTENDING CLASS
KEEP TO THE 2 METRE SOCIAL DISTANCE RULES FROM OTHERS OUTSIDE YOUR HOUSEHOLD
USE HAND SANDITISER WHEN ENTERING AND LEAVING HALL
ADHERE TO VENUES ONE WAY SYSTEMS AND ENTRY AND EXIT RULES.
TAEKWONDO SHOES OR GRIP SOCKS HAVE TO BE WORN – NO BARE FEET
COME TO LESSONS ALREADY IN YOUR DOBOK
YOU MUST HAVE AN UP TO DATE STUDENT LICENCE